Tell Sacramento to Pass Election Day Voter Registration!
Tell Sacramento to Pass Election Day Voter Registration!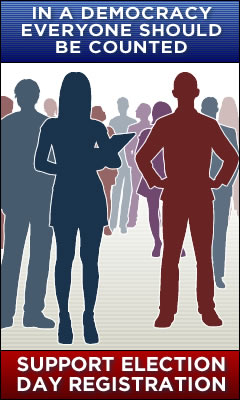 UPDATE: We won! On September 24, 2012, Gov. Brown signed AB 1436 into law.
Throughout the country, states like Pennsylvania and Florida have adopted new laws making it harder for Americans to exercise their fundamental democratic right to vote.
In California, we can push back against this voter suppression campaign and increase voter turnout by as much as 5% or 850,000 voters! It's time to allow eligible voters to register up to and including Election Day. (Right now, voter registration ends two weeks before the election.) States with Election Day Registration (EDR) lead the nation in voter turnout. With EDR, we too can increase participation.
That's why organizations across California (see below) are teaming up to support Assembly Bill 1436, which has passed the Assembly and is now being considered by the Senate. It needs your support to get it over the finish line.
Please sign our petition and tell Sacramento: "I support Election Day Registration in California. Eligible voters should be able to register and vote up to and including election day. I call on my State Legislators to vote in support of AB 1436 to promote democracy in California."